Riding with me on a tandem bicycle
Early this fall, I discovered that someone had stolen our well-worn Wike trailer out of the back of our car while it was parked at the mall. That sparked a desperate search for alternatives while I waited for a replacement to arrive, and I decided to re-visit the potential for Margot to ride something herself. I did not think she would have enough strength or interest to tolerate sitting in a traditional, upright position. Though there are some recumbent trikes that can be adapted for towing, I could not yet imagine a time in the near future when she might be more independent, and therefore justify a separate trike for her.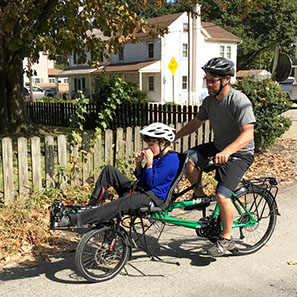 So I was intrigued when I came across a recumbent tandem that could be adapted for people with disabilities - the Hase Pino STEPs. Margot rides in the more comfortable recumbent position up from while I still control the steering.
Hase bikes include lots of add-ons to support people with disabilities (I included adapted pedals for ankle support). For now, Margot does not have to pedal, but I can easily change that when I want. STEPs is an electronic torque assist that can run for over 60 miles between charges, and really helps going up long hills. Even though Margot only 100 pounds right now, she will only get heavier as I get older, so I appreciate the extra help.
I was delighted to discover a store in the region (Recumbent Cycles of Lancaster) with a similar bike in stock. The owner, Scott Barrows, was experienced in up fitting bikes for children like Margot. Scott is clearly not of the "can't do" school, and his patience and experience was immensely helpful. Scott helped me to test different kinds of adapted pedals and harnesses. Instead of the harnesses offered by Hase, I put Margot in her EZ-ON Bus harness and then run a long strap use a strap to clip her to her seat. Because Margot wears a bus harness in our car, the transition to the tandem is seamless. My test drive with Margot is pictured above (you might notice my intense concentration as I monitor Margot while trying not to crash).
Transporting the tandem was the biggest challenge: its 7 foot length and unusual configuration makes it awkward to hang off of a standard bike rack. So I ended up adapting a hitch mounted carrier platform. I build a separate aluminum frame that the tandem sits securely directly on, and that is attached to the platform.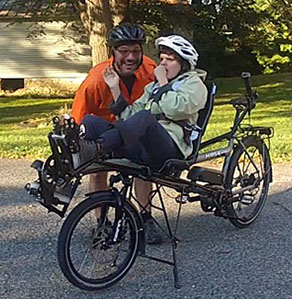 The clip included in the video is based primarily on Margot's second ride (the picture to the right is taken just before we leave) - and the first on a real road instead of a bike path.
We are still working out some kinks. Evidence-based practices like response interruption, antecedent interventions, and differential reinforcement were essential to preventing her from pulling on my handlebars; a behavior you need to decrease to bike on narrow country roads! But Margot loved it from the start, and began trying to pedal on our third ride. Using a tandem instead of a trailer means that I can bike on almost any country road, which means even more trips together to even more places. I have started to include my favorite on-road tandem routes in Margot's on line Adventure Trail Map.
Zip Lining at Camp Fairlee Manor
It was not until I first visited Camp Fairlee Manor, seeking summer options for parents of my students at the Delaware Autism Program, that I began to consider a sleep-away camp for Margot. The camp director and staff clearly rejected the "can't do" attitude often seen elsewhere, and enthusiastically and successfully accommodated some of the most challenging students in my program. This attitude is wonderfully conveyed in a recent video about the camp developed by Easter Seals (which also includes Margot!).
The attitude also helped me to make the "leap of faith" I needed when I wondered how they might accommodate some of Margot's needs (will her schedule of tube feedings leave her out of some activities?) and respond to the behaviors that seemed likely to re-emerge (will Margot really sleep through the night in an unfamiliar room , especially when she realizes her counselor is there beside her?). In the end, Margot did very well - so well that she has attended every year since, and to enjoy it more each time. Last year, she even recognized the route, and became more and more excited as we approached the camp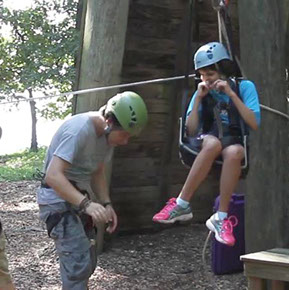 Then I heard that the camp had installed a zip line... an even more emphatic rejection of "can't do"! I speculated that Margot might become impatient with the preparation needed, or resist being harnessed, or be terrified instead of being thrilled. But the camp had already rewarded my trust in them, and so I immediately signed Margot up. I was delighted to hear that she enjoyed the experience immensely. This past summer, they graciously provided me with a short clip that I was able to include.
Walking her dog
Many children dream of having a dog, and Margot's brother and sister were no exception. But frankly, I could not imagine accommodating a dog's daily needs with the responsibilities we were juggling with Margot. And for long time, whenever we passed dogs or other animals on the street, Margot paid no heed, so I saw no potential benefit for her.
That changed when I accepted a neighbor's invitation for burgers and beer, and brought Margot with me. I rarely did this as Margot required constant monitoring, and is never at her best in the evening. But it had been a while since I last tried, these were good friends who knew Margot well, and I was especially curious to see how Margot would respond to their dogs. My leap of faith was rewarded: when the neighbor's spaniels jumped up to lick Margot in greeting, she smiled and giggled!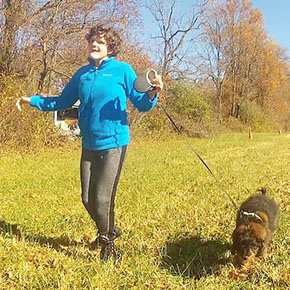 After some research, I realized that the right dog could not only provide companionship, but open up new activities for Margot. And with the right training a dog could function to help to distract or calm Margot in the community when she was beginning to become upset. So we looked for a breed that was hypoallergenic and had the right temperament and intelligence. We settled on a mini-Bernadoodle: a mix of a miniature-Poodle and Bernese Mountain Dog. Cooper joined our family when he was about 12 weeks old.
In the first GoPro video, we captured one of the walking routines we had established with Margot, so now we just needed to create one with Cooper. On their first walk together, Margot surprised me by readily accepting Cooper's leash, and then refusing to relinquish it for 20 minutes while we made a loop through a dog park recently established near our home. And Cooper surprised me by carefully checking back to see if Margot was keeping up with him. The video included here was Margot's second walk with Cooper, when he was about 16 weeks old. Margot has since begun to spontaneously approach Cooper to pet him - I call that a success!
Riding her first roller coaster at Dutch Wonderland
Margot's excitement on the water slide was captured in the first GoPro video. This got me thinking of roller coasters. But amusement parks are almost perfectly designed to be almost perfectly unsuited to someone like Margot. They can be hot and noisy. You have to walk a lot and then wait for your turn on the ride. They are often far away, and always unfamiliar.
And my first attempt with Margot when she was about 8 years old was so unsuccessful it was funny. I tried her on a spaceship ride that I thought would remind her of riding in our car (but a bit bumpier). Once I put her seatbelt on and they closed the doors, I realized that this was just like her last trip on an airplane... which Margot had absolutely hated (another story!). True to expectations, that resulted in 2 minutes of kicking, screaming, and a near-vomit.
So this time, I did a bit more research and planning. I chose the same amusement park as before - Dutch Wonderland - because it was close by, was small and focused on young children, and had a cute water park that could serve as a back up. Dutch Wonderland has some very friendly policies for children with disabilities: children skip the line and can stay on the ride for a 2nd time without getting off. Ad if you have to leave within 5 minutes or arriving you can get a full refund. I looked through the map and youtube videos, and identified some potential rides that looked thrilling but that allowed us to sit beside Margot.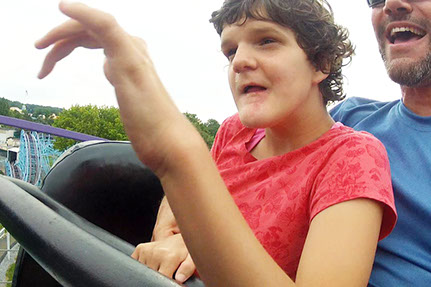 For our first trip, we kept our expectations low: my goal was to walk her around the park in her Wike trailer, try 3-4 rides, and then spend an hour in the water park. That worked out well enough to plan a 2nd trip, accompanied by with her brother and sister (who absolutely wanted to see how Margot would do), and a plan to try the "big" roller coaster. We first tried a smaller water slide, and then a pendulum ride with her nanny (who did her best to overcome her own fears). And then finally, it was time for the big roller coaster. Nicholas and Lili rode in front, and I kept Margot from falling out a one hand iron grip while filming with another. But her range of expressions during this and other rides is truly priceless: anticipation, trepidation, surprise, terror, trust, and sheer joy!