Failure to Launch: Starting new programs of ASD services and training
Incremental growth and transformation in a hospital-based ASD clinic
July 28, 2017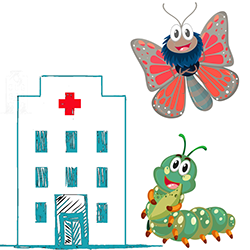 Children's hospitals across the country have sought to develop more specialized ASD services in response to the increased need. More ambitious expansion and improvement has drawn heavily on fundraising and philanthropy. The example outlined offered below draws directly on my experiences helping to lead specialized ASD programs in hospitals in the USA and Canada, as well as other programs whose development I have closely tracked. But these only begin to illustrate some of the distinctions noted earlier between incremental and transformative growth. Each of the examples outlined below is within the reach of any hospital that designates the right leader, develops the right implementation plan, and allocates the right resources.
A starting point: A multidisciplinary ASD Clinic for Diagnosis and Treatment
For each of the examples listed below, I have assumed that our hospital is building on a base of services already provided by a multidisciplinary ASD team. This clinic might be very small (e.g., a one day per week commitment for professionals from three different professions) or it might be very large (e.g., one or more full-time teams focused primarily on ASD). The clinic might offer services that are very limited (e.g., diagnostic assessment for young children with periodic follow-up) or more comprehensive in their scope (e.g., a range of assessment services, and that includes specific, ongoing treatment or case coordination).
The logo is adapted from Joaquim Alves Gaspar's drawing of Pedro Reinel's compass rose.