Riding in a bike trailer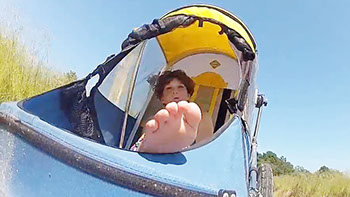 This was perhaps the easiest adventure to create, once we discovered the Wike special needs trailer. Wike is an innovative Canadian company that manufactures many interesting trailers and bikes. The trailer can accommodate up to 150 pounds, folds quickly, and fits easily in a hatchback or large trunk. The 20" wheels make for a very smooth ride. Traillink provides plenty of bike routes within an easy drive after school, or a longer drive on weekends.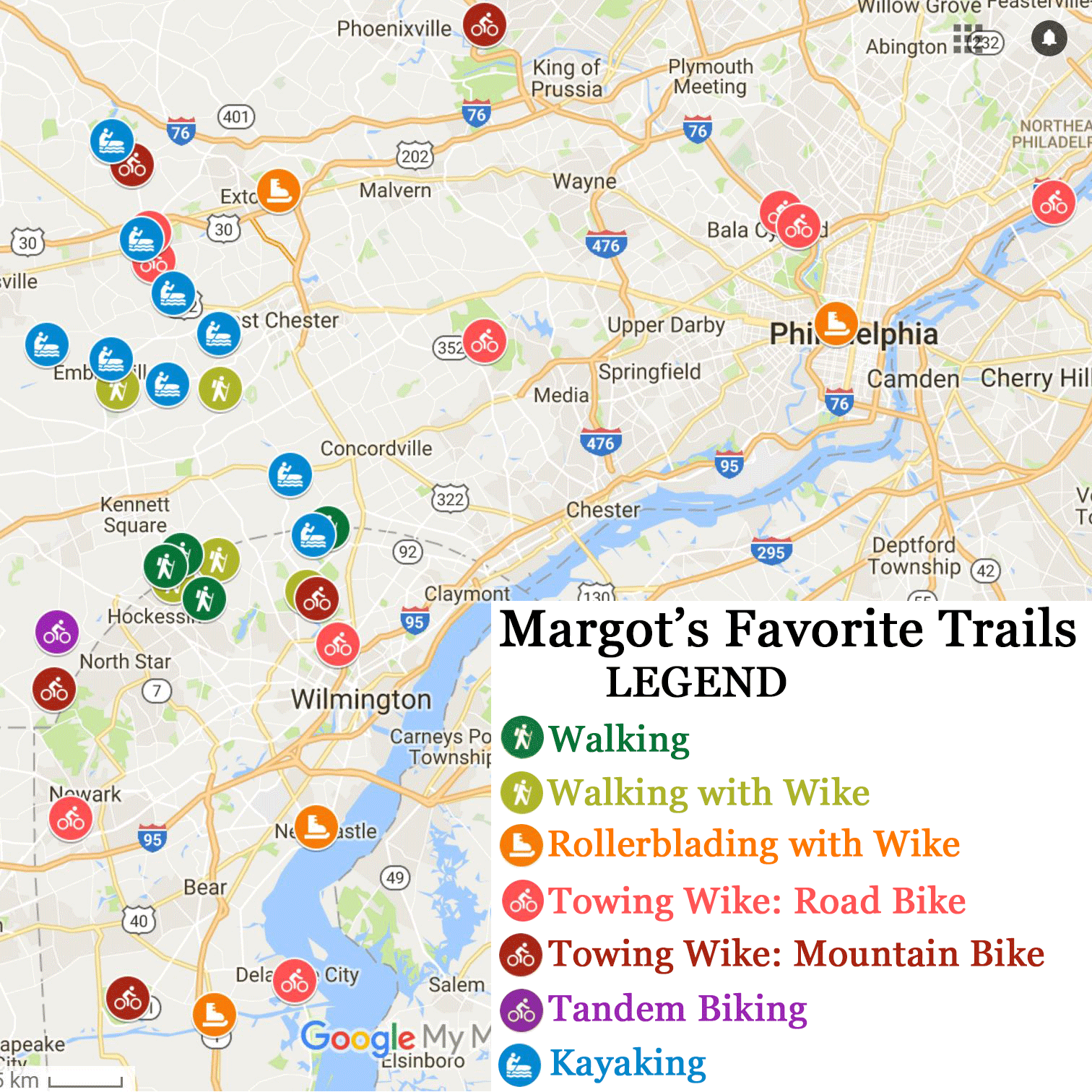 Margot loved our rides together from the start. We have extended our options to include any mountain bike trail wide enough for her trailer (Margot loves the bumpy ride!). If I really want a workout, I can push Margot while rollerblading (the 6 1/2 mile Central Park loop on a weekend in New York City is a favorite). And if I really want to geek out on a long, flat bike route, I can always pull Margot in her Wike with my Grasshopper recumbent. With all of the options made possible with her Wike, we now have a menu of trails across the region.
Shopping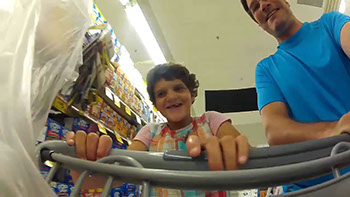 While leading the Delaware Autism Program, I learned how important community-based instruction was to the overall quality of life for children with disabilities and their families. I also learned how many families simply could not bring their children shopping, because their behaviors were just too difficult. So it just made sense to include Margot in as many community-based activities as possible, as soon as possible, and in ways that respected what she found difficult (unpredictable demands, walking long distances, waiting , and so on).
At the beginning, a 5 minute walk through the store could trigger a meltdown. I began by identifying Margot's baseline - what could she tolerate without a tantrum, 9 out of 10 times? For Margot, this entailed walking with me through the produce section, along the back wall past the deli and butcher, then up the dairy aisle, and back out the front door of the supermarket, without buying anything.
We began to build on her success taking walks around the school (described below), and keeping shopping fun while pushing Margot a bit further each time. I included shopping and other community trips as part of the training offered through behavioral wraparound, twice a week after school. I successfully advocated to add twice-weekly community outings to Margot's school program, including a trip to the same grocery stores we used. (These outings have since been added to the programs of other students in the school).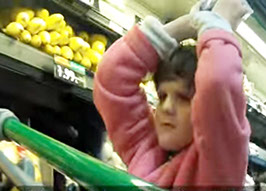 Within a year, we had created a basic routine for a 15-20 minute trip to the local stores that worked for everyone. From that point on, shopping became one of Margot's favorite activities and a great opportunity to test new skills, as demonstrated in a short video I assembled for the talent show at Margot's elementary school, to show to her peers and teachers - Margot's talents. Now we can bring Margot for a big shop in the supermarket, or a 60 minute jaunt through the mall. Heroic? Maybe not. But important? Definitely!
Taking a walk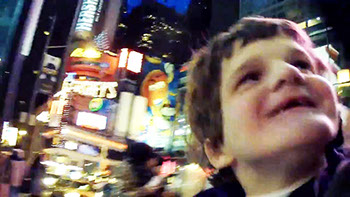 I knew that Margot's mild cerebral palsy would make any physical exercise more challenging. So when Margot was about 7 years old, I initiated a program to get Margot to take longer and longer walks around the school. I planned this out in consultation with a behavior analyst who the school agreed to hire and who included this in on-site coaching he provided to Margot's teacher.
In the beginning, Margot was not interested. But with lots of encouragement, she would tolerate a walk to the principal's office and back. We gradually increased her stamina and coordination at school, and through shopping and other community outings after school. Over an 18 month period, we lengthened theses walks very gradually to 100-150 yard jaunts around the school and playground. We tracked her distance and mood, and we made sure that she had at least 4 great days in a row of successful walks before we would ask her to do more.
I integrated these walks into the behavioral health support we received at home, so that Margot's nanny could also learn while I was at work. So Margot began to walk around store, parks, and malls. What Margot used to fight she began to look forward to!
I vividly remember our first real walk, on a snowy Christmas evening in New York City. Margot got out of her stroller and walked 6 blocks down Broadway, and clearly loved it! This was when Margot discovered that this was a great way to explore her world. The GoPro video captures Margot's first walk to enjoy the lights and crowds of Times Square at night on the following Christmas eve.
Margot's walks have continued to lengthen. Now she will regularly hike with us for a mile at a time on a paved path near our house. Last fall, we got a puppy for Margot to make walks even more fun. And this Christmas, we took our first real "hike through the woods. Sometimes on a trail Margot and I even run into parents I have worked with, walking with their own children are now young adults.
Going to a water park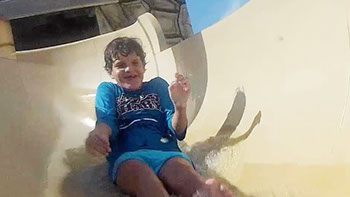 The string of successes with biking, walking, and kayaking got me thinking about other adventures. These successful adventures also helped to recharge my parental "battery", which is important for those less successful adventures that can drain you physically and psychologically.
A water park seemed like a good fit, given how much Margot loved the pool in the summertime. But the potential for crowds, heat, screaming children (which reliably elicit hits from Margot), and the stress of the unfamiliar also made this a gamble.
So we kept our expectations low in a first trip to Jungle Jim's water park at the Delaware beaches, fully prepared to beat a hasty retreat. But it was neither crowded nor hot, and Margot was so thrilled for 90 minutes in the toddler section she paid no heed to the screaming toddlers surrounding her. She even learned to go up to the top of a small water slide on her own, and then wait for me to come round the other side to catch her and keep her from going under.
This GoPro video captures our second trip with my other to children in tow, for a rare outing when all three could get excited together. With my son Nicholas stationed at the bottom of a much bigger slide in a much deeper pool, I could bring Margot to the top and send her down on her own. In the video, you can see how much fun it was for both of them!
We have since returned; now Margot will wait at the top of the big slide for me to go down first, and then follow with a prompt from the lifeguard, who was eager to help once I explained what was involved. And Margot, myself, her sister Lili, and Lili's friend even caught some air on a 4 person raft rocketing down a three story water slide!
What other adventures await this GoPro Hero?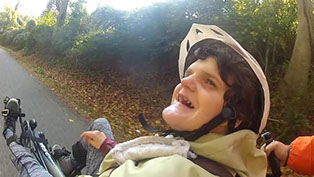 Taken together, these experiences led us to reconsider what Margot was capable of, and to challenge our initial "can't do" assumption. The result? Margot's first roller coaster ride this past summer and other adventures. These are documented in a new Youtube video - Margot was born to be wild - and described on a separate web page - No "Can't Do". And you can learn more about the different bike, walking, rollerblading, and kayaking trails that Margot and I enjoy on our adventure trail map.