Find a good adaptive ski program
Begin to see what might be possible
I started where every DIYer starts these days, searching youtube for relevant videos (ok, I watched some irrelevant ones too...). On the one hand, there are tremendously inspiring videos of skiers who are blind, paralyzed, or who have had limbs amputated. This suggests that specialized ski programs have learned a lot over the years. But while there were also a smaller number of videos of people with developmental disabilities, I could find no "how to" videos for teaching someone like Margot.
In the process, I discovered the National Sports Center for the Disabled, which happens to be at Winter Park Colorado, only 90 minutes from my sister in Denver. So the next time I visited her, I arranged to spend a morning at Winter Park with an instructor who agreed to show me the different kinds of equipment and strategies they might typically consider for someone like Margot. I got to "be Margot", riding an adaptive ski bike and a snow slider, controlled by an instructor. This experience was invaluable, demonstrating how such equipment can give an instructor a range of options from almost full control to the first steps of more independent skiing. And the game-changing insight? By harnessing gravity, skiing generates speed without much exertion, essentially erasing part of a disability. It is all, wonderfully, downhill!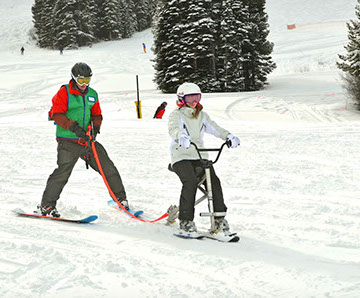 These practice runs were also invaluable in highlighting the need to look beyond the small portion of time actually spent skiing downhill. I realized I also had to think how we would get Margot dressed, to and from the slopes, on and off the lift, and so on. It became clear that this must also be well-planned and executed for the whole experience to be successful (see below).
Perhaps most inspiring was the "No can't do" attitude of the team of staff and volunteers at NSCD. It was a joy to watch them expertly choreograph a group of young students with disabilities through the process of ski fitting and on out to the slopes. As an educator who is thrilled by the controlled chaos of a classroom, I felt right at home!
At that point, I decided to find find an adaptive ski program near me. We completed about 8 45-60 minute sessions over 4 days at Two Top Adaptive about 3 hours away, and then completed 4 more sessions over 2 days at Vermont Adaptive about 6 1/2 hours away.
Assess your child's level of skill and strength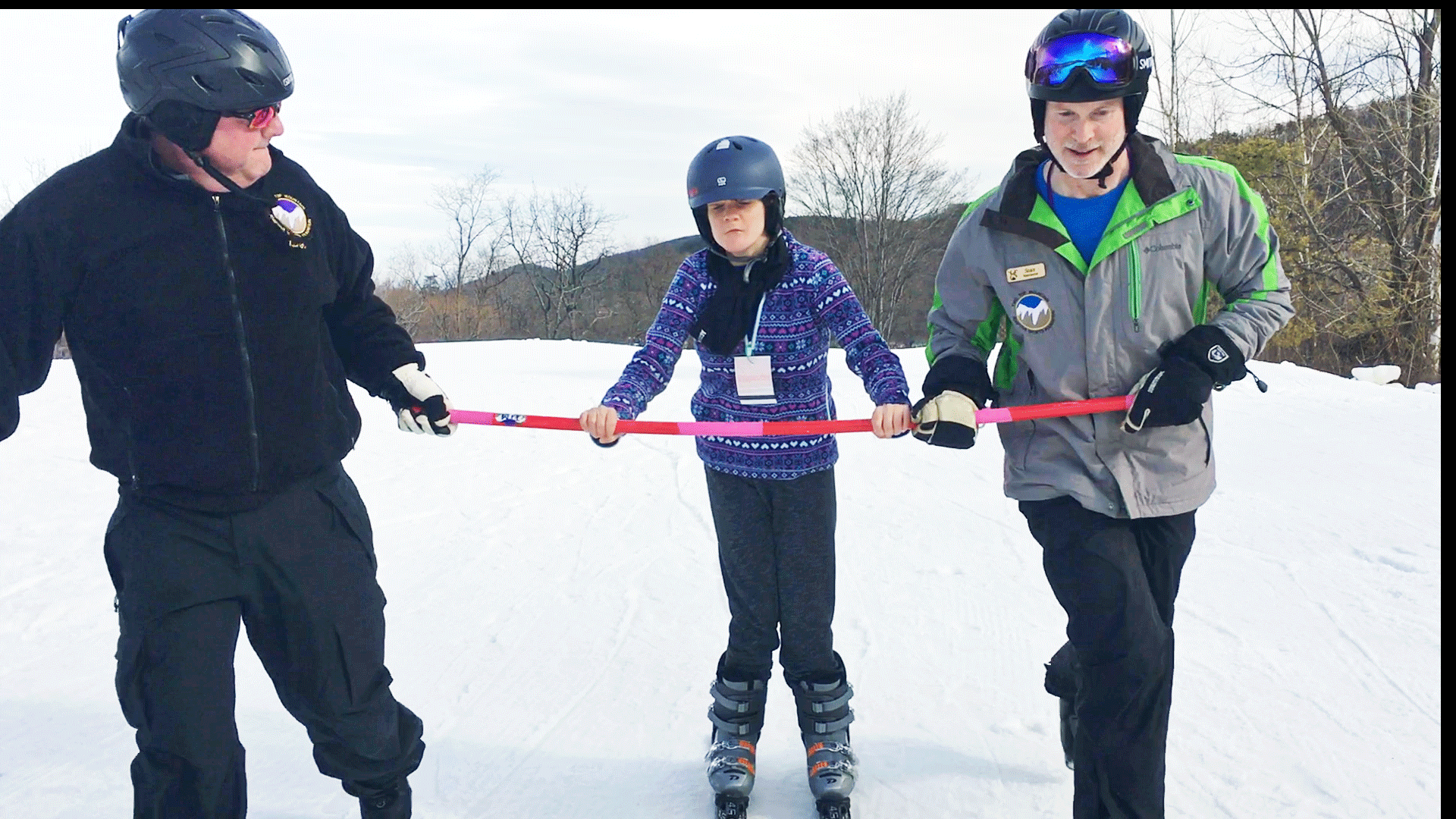 After visiting Two Top myself to scout of the facilities and meet its director Bill Dietrich, I scheduled two 2-day trips with Margot, her sister Lili, and her nanny. At the beginning, we could complete 2-3 45-60 minute "lessons" each day... An unfamiliar routine and surroundings, going from stuffy fitting rooms to bracing cold, plus the sheer exertion of walking with skis pushed Margot to her limit pretty quickly. On the third day, we tried a sled (pictured below) to whet Margot's appetite with her first downhill runs. It was on the final day that Margot slid downhill for the first time, as captured in the video. These assessments were invaluable, giving me and her instructors a sense of the level of support Margot would likely require, and beginning to work through the mechanics of the entire ski experience. But by the final day, Margot became capable of 2 75 minute (door to door) lessons each day.
Consider specialized equipment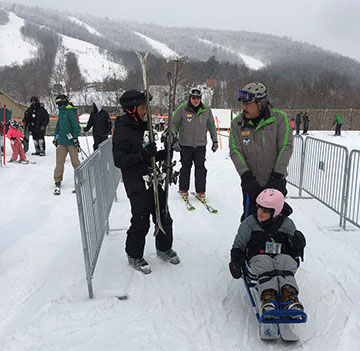 An important, early decision is whether to utilize specialized adaptive equipment. While deciding between a tandem bike or getting Margot on her own trike, I had already concluded that Margot did not yet have the ability to master independent biking and stay safe on the road. And skiing was more challenging and potentially more dangerous than biking. So some kind of adaptive equipment that allowed me to control her headlong descent was essential!
This decision had two implications. First, I would need to be comfortable with the equipment if I wanted to go to any hill that did not had an adaptive ski program. I am at best a competent skier, primarily through strength and judgment than any real ability, so this was a real consideration. Second, this meant that I would always need a partner to ski with Margot, to help get equipment on and off the lift. While this was more cumbersome and expensive, I really liked the idea of just planning on a second pair of hands.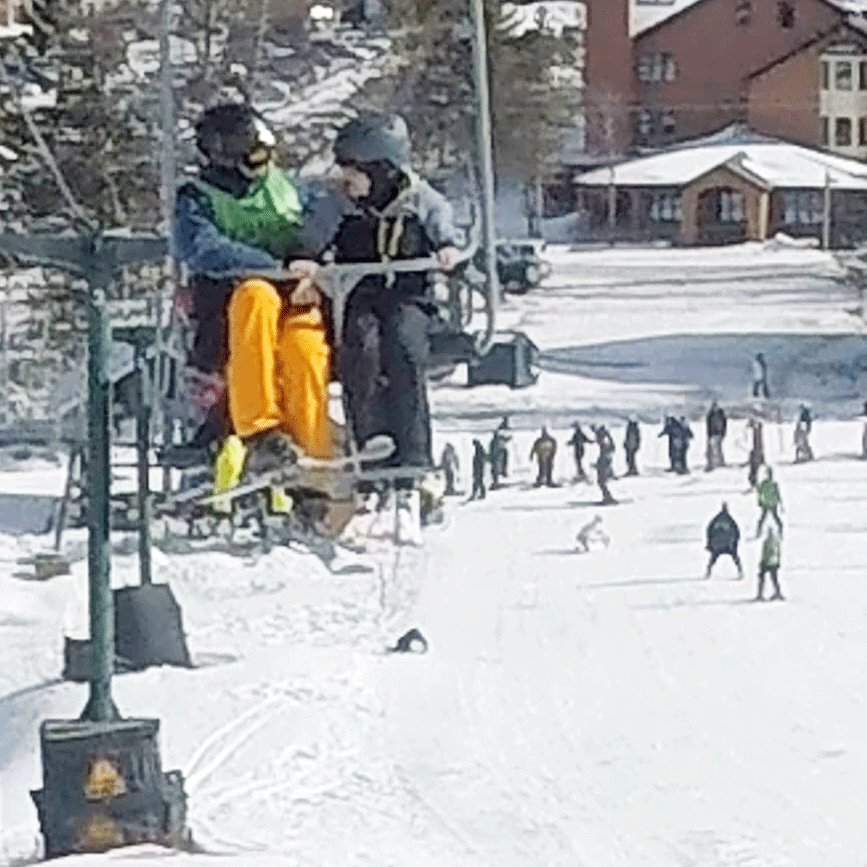 The next decision comes back to the level of independence that skier might be capable of. The sled did not take advantage of Margot's limited strength and balance, and so seemed less likely to challenge her to new skill levels. In addition, it was a beast, and required several handlers. I had tried a snow slider at NCSD, and thought it might be much more manageable while still demanding some strength and skill from Margot. So after experimenting with other options during our first 60-minute session at Vermont Adaptive, we introduced the snow slider, and it was an immediate hit. At the end of the second session, Margot was going up the lift (see picture above) and completing her first downhill run with Jack and Leonard. The footage on the video was taken during Margot's fourth session at Vermont Adaptive.
Teach one step at a time with specialized help
In addition to specialized equipment, we needed specialized instruction. Margot capitalized on the experience of Bill Dietrich at Two Top and Tom Alcorn at Vermont Adaptive in setting overall goals. And each of the volunteers (like Randy and Sean at Two Top, and Leonard and Jack at Vermont Adaptive) drew on different experiences - as skiers, as school teachers, as siblings of someone with a disability, and so on - to break down the necessary skills and teach them one step at a time. While some of these steps drew directly on the lessons taught to every novice, others drew from specific experience each had accumulated working with different skiers with different disabilities. At times, my role as a team member was critical, clarifying what Margot could understand and carefully monitoring when she was hitting her limit of skill or endurances. Together, we made a great team!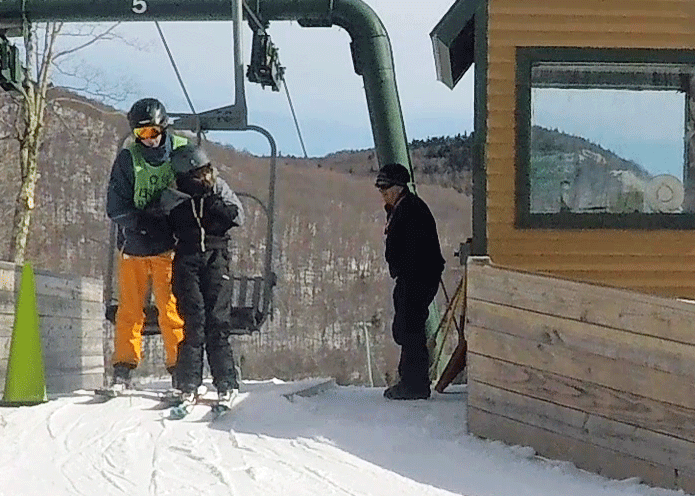 Other times, my expectations almost stood in their way, and I was sometimes delightfully surprised when I stepped back. After Margot's first success on the flats on the snow slider, at Pico Mountain, I turned to the instructors to swallow my fears by suggesting that just maybe Margot might be ready to ride the lift up the bunny hill.... only for find that Margot was already riding with Leonard (see above picture).
Use good teaching and planning
Except for the specialized equipment and instruction described above, everything else we needed could be found in good home- and school-based planning and instruction.
Behaviorally-based teaching strategies
It is no surprise that behaviorally-based teaching strategies are just as useful on the slopes as they are in the home or school. For Margot, this includes a generous mix of contingent and non-contingent praise (as demonstrated by Randy below!), prompting, redirection, visually-supported communication, and task analysis. Setting specific goals, and tracking Margot's engagement and the behaviors signaling discomfort helped us to adjust her lessons to be just the right length and level of difficulty.
Routines during skiing to maximize comfort and time skiing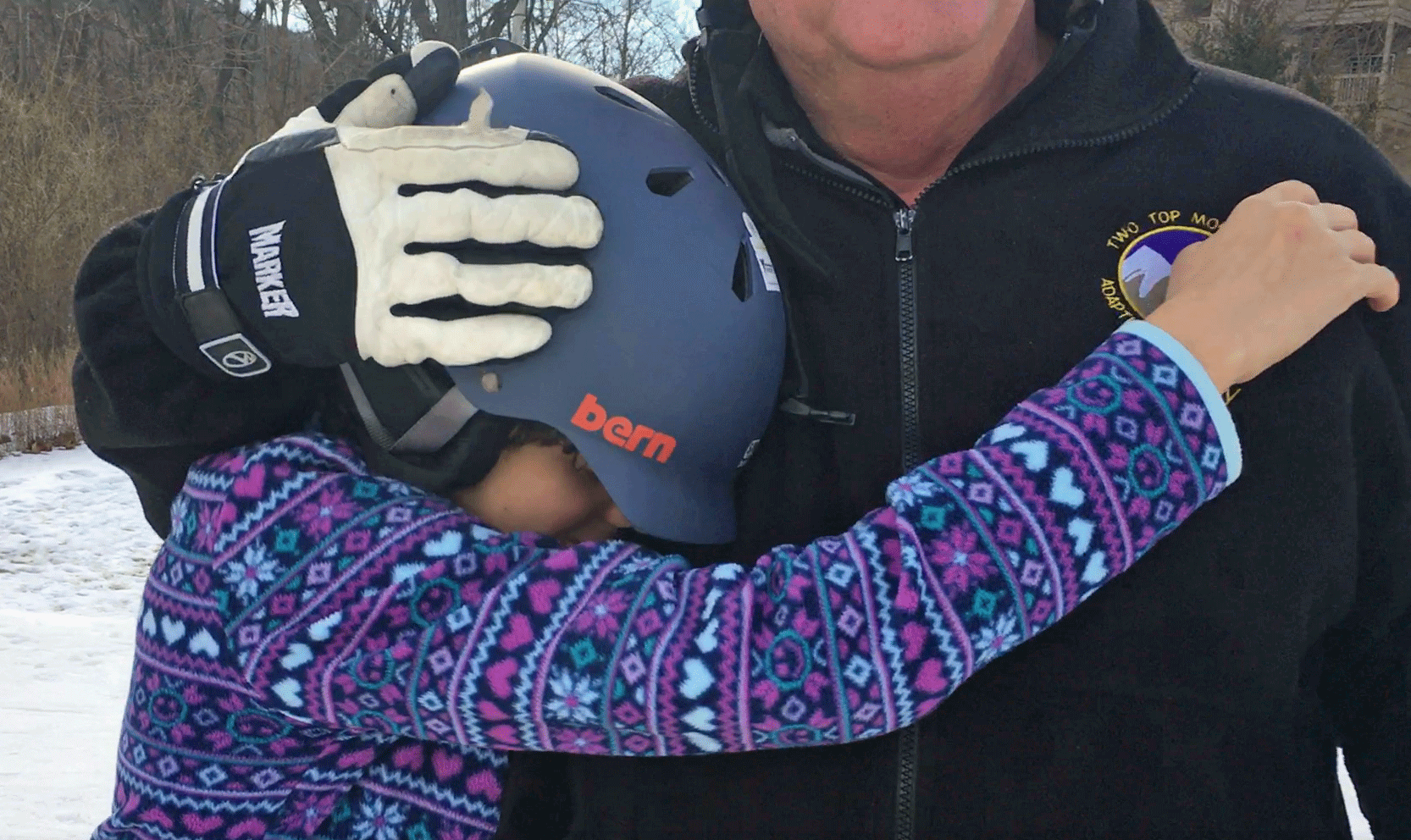 One of the earliest lessons was that the whole process of getting Margot ready for skiing and on the slopes risked sapping her interest and strength. We re-framed our goals to try to maximize Margot's time and energy on the slopes... time going downhill divided by time in preparation. That ratio got bigger as we got better at getting Margot ready, and then settling on the snow slider.
In the process, we settled on other important accommodations. We brought Margot in her Wike to the spot where to she would actually put her skis on. And then there were, literally, our accommodations! Staying slope-side meant that Margot got to the lifts more quickly, and pushing a Wike through the snow while wearing ski boots is pretty tiring (though the 2.5" wide mountain bike tires I recently installed on her Wike should make that a bit easier!)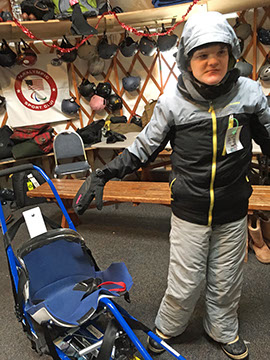 Waiting in a hot, crowded room to get equipment adjusted and develop a plan for the lesson also wore Margot out. At first, we adapted by doing out planning outside. Then we bought her her own skis to avoid the headaches of fitting rentals. This year, we will buy her own snow slider so that we can go to more hills and will always have it adjusted correctly. Maybe we can get the fun/preparation ratio up to 3 or even 5!!
Paying close attention to Margot's level of comfort was key to adjusting accommodations, and this was especially true with respect to making sure she was neither too hot nor too cold. It took us a couple of days to get it right: one day she was drenched in sweat when she returned from the slopes, and the next day she became cold within 20 minutes of being outside. We still have to sew snaps on her mittens and jacket to keep her from taking her mittens off. Once mittens stay on, we hope this will help make it a bit harder for Margot to take her ski goggles off.
Create before- and apres-ski routines
Creating routines before and after skiing was just as important as the routines created during skiing and outlined above.
Given how taxing skiing was for Margot, it was important to time her lessons relative to her meals: 10:30AM and 2:30PM start times worked well, given her 10AM and 2PM feedings.
Two 75-minute lessons each day leaves a lot of time left over between lessons. Planning a stroll around the ski hill in her Wike fills some of this time. A trip to a pool or hot tub in the later afternoon is the ticket to a relaxing evening. Fortunately, Margot has great morning and evening routines. In the morning, she is happy lounging around with videos from when she wakes up around 6AM until 9:30AM. In the evening, she asks for bed at 6:30 or 7PM, and is quiet in her room until the next morning). That meant that we just had to figure out the schedule from 10AM to 6 PM, minus the actual time skiing.
We have found it really difficult to not be able to check in until 4PM, and then to have to check out at 10AM: Margot simply cannot find a place at the ski hill where she can relax in quiet. So we have usually taken a room the night before so that we can check in at 9 AM, and, when the price is not to bad, take the room an extra night at the other end so that we can fit in an afternoon ski lesson before we have to check out. Now that we have a small Class C RV, we hope to use this as a base between lessons on the first and the last days.
We found it better to plan several short trips than one long one. All of this planning itself required time and energy, and so we decided to plan trips that initially resulted in maybe 2 days of skiing plus travel. That left me time to re-group and re-evaluate between trips, and get other equipment as needed.
​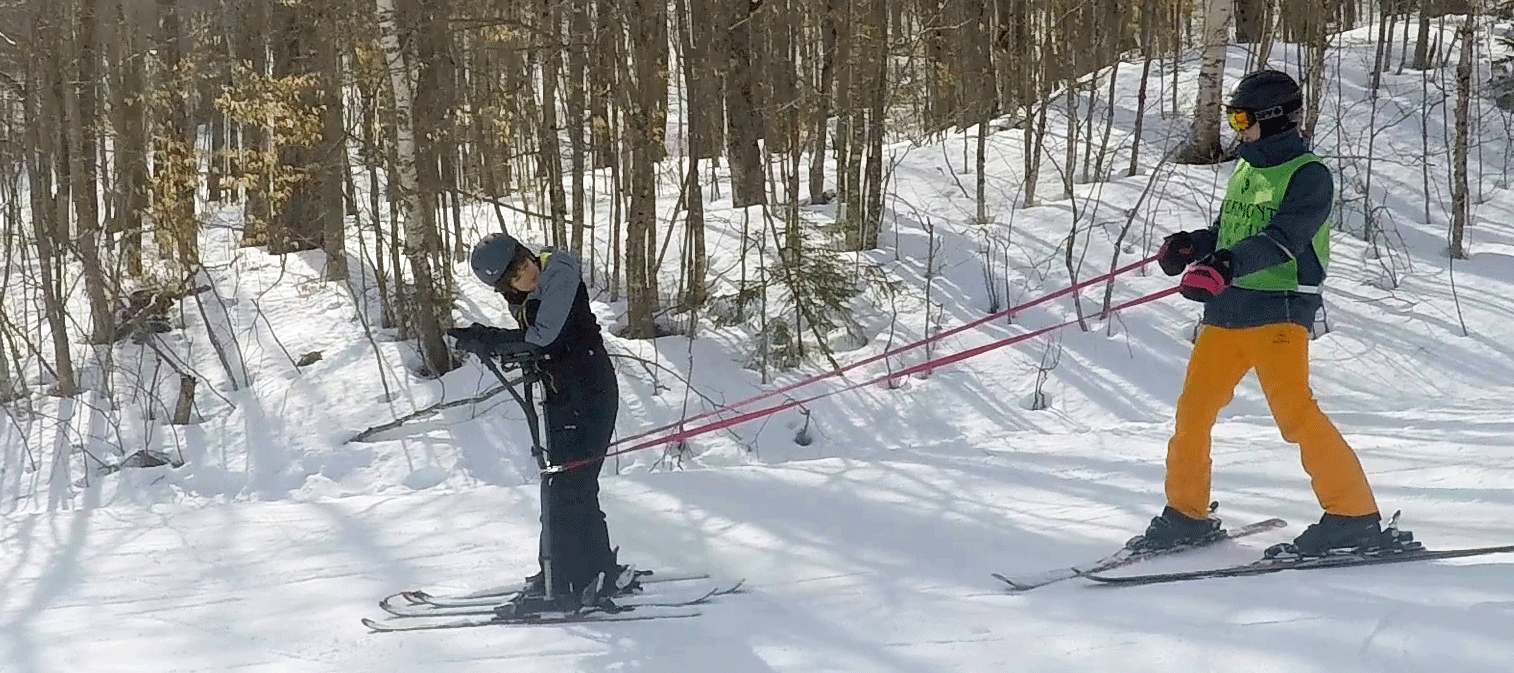 And have fun!
A successful vacation requires that we all have fun, and so I also learned to build in time for myself and the rest of the family. Margot's nanny Dinora, who has been with us since Margot's birth, is key here. She generally takes charge of Margot feeding and self-care, is her 1:1 in the community, and then also helps with getting Margot ready for skiing. And because Margot needs her own bedroom, we always find an AirBnB condo to rent.
Even with all this help, I was finding it difficult to squeeze in more than 1 2-3 hour block of skiing for myself during the day. Each of Margot's lessons was a pretty intense 90-120 minute block: I needed to help Margot get dressed and undressed, to get her to and from the hill, and to be present throughout the lesson. So I was happy to (re)discover the joys of night skiing!! After 5pm, the hills emptied out, the temperature dropped, and the skiing got better. So once I could hand Margot off to Dinora, I could hit the hills with my daughter Lili and/or son Nicholas. These trips with Margot became whole family adventures, with Nicholas, Lili, and my wife Monique re-discovering the slopes. It is always great to find another thing we can all (including Margot) enjoy together.
The unexpected delights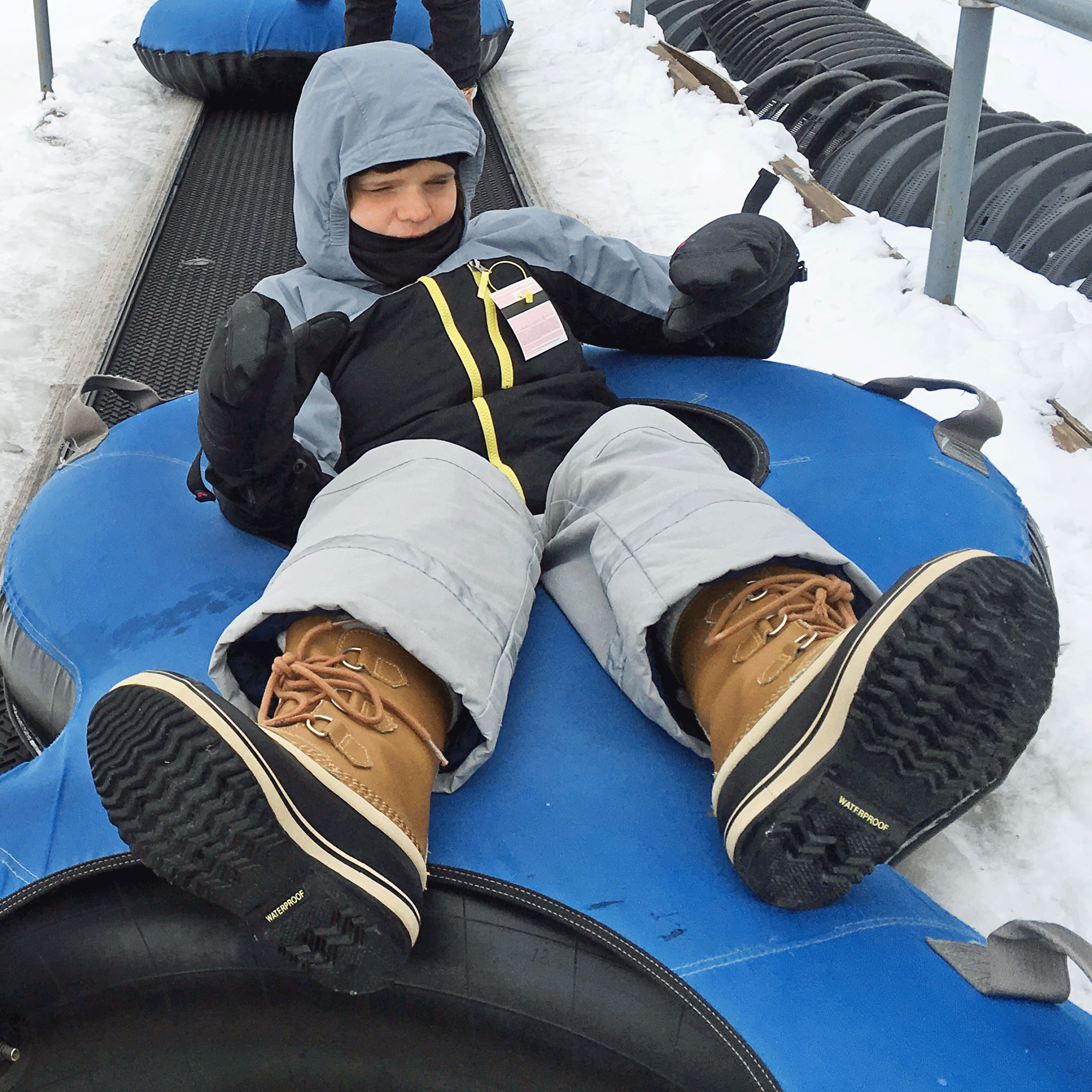 When you spend so much time focusing on trying to overcome the many challenges that someone like Margot faces, the accomplishments just stand out even more. How determined Margot was to straighten her skis. How surprised she was to find herself sliding on skis the first time. How much she enjoyed her first downhill runs when everything came together with her snow slider.
Working with volunteers like Randy, Sean, Jack, Leonard, and the many others was also inspiring. Each had their own story about how they came to volunteer. My favorite was how Bill Dietrich at Two Top Adaptive convinced his family physician to volunteer! Other programs Margot has benefited from also run on volunteers, and their dedication is rarely appreciated. I have begun preparing a second video to capture and celebrate these stories and this dedication (see below).
What's next?
Getting trained as an instructor
Right now, we can only go to hills with an adaptive ski programs, which really limits our options. So I will soon return to Two Top Adaptive, to get trained in being Margot's primary instructor on the Snow Slider. I am hoping that I can complete this in one day. Then I would return a second day with Margot to try it for real, with an instructor to provide feedback. My wife would also join me that second day, to get instructions in bringing the Snow Slider on the lift, and providing other support. We are also going to dig deep, and buy our own snow slider. Then we will be all set to go to any hill!
Tubing and fat tire biking
Thinking through the full range of winter activities led us to other options. The first was tubing, which we tried during our first ski trip. It was another way to test what kinds of clothing Margot needed to stay warm. We have done it several times since, always making sure that we could either double up in one tube or be able to hold two tubes together (not all tubing hills allow this). Margot was able to sit in the tube as it was pulled up on magic carpet. That made it a lot easier for her, and a great workout for me (someone still needs to pull Margot to the magic carpet, and then keep her from sliding backwards!). Next on our list is fat tire biking with the Wike... we have a cold weather sleeping bag, a Wike fitted with extra wide tires (which, yes, I have considered replacing with skis), and are now just waiting for a snow-covered trail!
Celebrating the great work of adaptive ski programs
The only thing almost as thrilling as skiing with Margot was capturing it on film for others to see. So one of my next goals is to document on film others overcoming these challenges. I will start with the one-day annual fundraiser for Two Top Adaptive, the 100K Challenge. On that day, teams including people with disabilities strive to complete a total of 100,000 vertical feet of skiing (about 107 descents down Whitetail Mountain's longest run) over a 4 hour period. I hope to capture the stories of 5 to 7 skiers with disabilities reflecting the range of challenges they face, together with some of the stories of the volunteers who accompany them. Stay tuned!